New Year's Eve Ball Drop
December 31st from 9pm to midnight
Ring in the New Year in Downtown Ludington! This FREE, high-energy event is packed with fun for everyone! Beginning at 9:00pm on Ludington Avenue you can enjoy music, a beer tent with commemorative light-up glasses, fireworks and of course the highlight of the evening, West Michigan's largest New Year's Eve Ball Drop. The lit ball will be dropped at the stroke of midnight followed by an amazing fireworks display over Downtown. Scroll down for more info
Presented by:

---
COUNTDOWN PARTY
NYE Party Starts at 9:00 pm!
Brought to you by Ludington Beverage and IOS Entertainment
Head downtown to enjoy live music, dancing and adult beverages while waiting for the countdown to midnight.  The street party at the south end of the plaza features a live DJ from IOS Entertainment. They will also host our countdown at midnight!
This is a family-friendly environment and FREE to attend!
---
BALL DROP
Countdown To Midnight!
Brought to you by the Ludington Area CVB
Gather around the intersection of James Street & Ludington Avenue as midnight approaches to get a good view of the famous NYE Ball touching down!
---
FIREWORKS
Brought to you by OxyChem
We like to kick-off the New Year with a bang! Once the clock strikes midnight, turn your attention to the crisp winter sky and watch one of the most amazing fireworks displays you have ever seen. The best part is that the show is right over top of downtown!
PRESS VIDEOS
---
SAFE RIDES PROGRAM
Thanks to these sponsors:
Ludington Beverage, Downtown Ludington, Ludington Area CVB, Applebees, Barley & Rye, Ludington Boat Club, Bud's Tap Room, Chuck Wagon Pizza, Danish Brotherhood, The Alley Bar, Jamesport Brewery, Lincoln Hills, Luciano's, The Mitten, Old Hamlin, PM Steamers, Sandbar, Scotty's, Sportsmans, Stearns Motor Inn, Table 14, Timbers Bar & Grill and many private individuals. Click here to contribute.
These companies are offering FREE rides on New Year's Eve:
LMTA:  (231) 845-6218
Abrahamson's Towing: (231) 843-2990
Quinns Tire's & Tows:  (231) 757-9262
Oceana Auto:  (231) 843-6500
Fiers Towing:  (231) 757-4479
Judy's Rides:  (231) 233-7200
Service Area: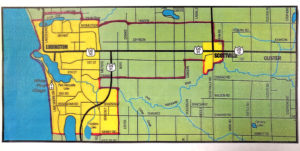 ---
LODGING SPECIALS
We invite you to stay the weekend in Pure Ludington and enjoy the winter fun happening in the area! Many local hotels and motels are offering lodging specials for weekend.
---
THIS EVENT IS FREE
Pre-order your light-up cups and drink tokens
to get a deal and save time at the event by picking them up
at Ludington City Hall (400 S Harrison St)
---
NEW YEAR'S RESOLUTION RUN 5K
DATE:  January 1st