World Record Attempt – Largest Dessert Party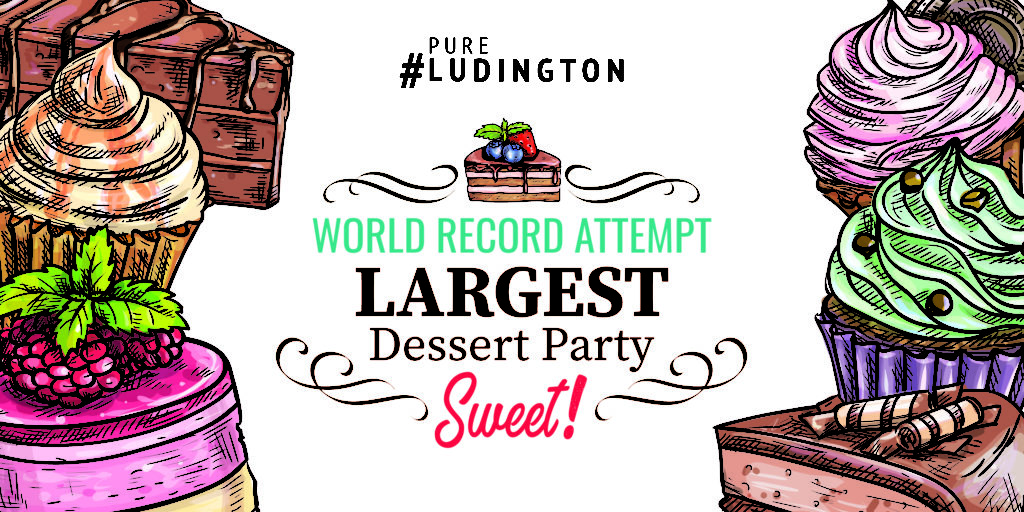 Our goal is to gather 3000 people with a sweet tooth to come together to enjoy dessert from several Downtown Ludington businesses. If this has your name written all over it (in chocolate syrup!) then RSVP so we can get an idea of how many to plan for.
This event is FREE! All you have to do is show up to Rotary Park in Ludington, MI on June 8th at 3pm to register and at 4pm you'll be served some tasty treats. This ticket does not guarantee you a spot for the party. The first 3000 people at registration will be allowed inside. We will attempt to accommodate as many as we possibly can, so please RSVP to let us know you are coming. This event if family-friendly. All ages are welcome!
---
REMINDER:
Your EventBrite tickets do not guarantee you a spot in the event. They are simply an RSVP to help us prepare enough dessert and a way to communicate to those planning on attending. The first 3000 people to register from 2-3:30pm at Rotary Park on Saturday to be given a wristband and allowed to enter the event. We will try to accomodate as many people as possible.
TIMELINE:
2:00-3:30pm : Register and get your wristband.
3:15pm : Arrive at your staging area, enter the event and find your corral.
3:45-4:00pm : Dessert delivered
4:00-4:15pm : Eat dessert!
HOW TO BREAK A RECORD:
1. BE IN YOUR STAGING AREA BY 3:15pm
—SEE MAP BELOW (you will also receive these instructions on paper at the event)
—Wristband numbers 0001-1600 on south side of Lewis St. (Ludington Ave. side)
—Wristband numbers 1601-3200 on the north side of Lewis St. (Court St. side)
2. Use the number on your wristband to find your corral.
—Once you've entered the park:
—If you are in corral 1-32, go left (south) towards Ludington Ave.
—If you are in corral 33-64, go right (north) towards Court St.
3. ONCE YOU ARE IN YOUR CORRAL, PLEASE DO NOT LEAVE
4. Your corral will be served dessert as a group.
—PLEASE DO NOT START EATING YOUR DESSERT UNTIL YOU HEAR THE HORN
5. YOU MUST FINISH ALL OF YOUR DESSERT TO BE COUNTED.
—You may help others finish their dessert if they are not able to.
NOTES:
You cannot pick your dessert type.
You must eat what is served in your corral.
Desserts include cookies, cake, pudding, jello, cheesecake, caramel corn, ice cream, gilato, tiramisu, brownies, and rice krispie treats.