Quick Links: Kudos | Board Meeting | Marketing | Business Development | Building & Grounds | Fundraising
---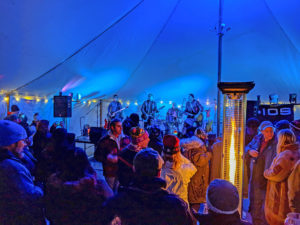 Thanks to everyone who joined us for our 10th Annual New Year's Eve Ball Drop! While the rain made setup a chore, the weather cleared in time for event-goers to enjoy the evening. We estimate around 9,000 people were in attendance to ring in the new year at midnight. The larger tent and band was a huge hit. Sales in the entertainment tent were up from last year, putting $6,000 into our fund balance for future projects. The Safe Rides program served 1,300 people, which is also up from last year. Thanks to Ludington Beverage and the Ludington Police Department for organizing this program, to all the donors who made it possible.
Next event is the Soup-er Bowl Walk.
---
Kudos
Thank you to our New Year's Eve event sponsors: Ludington Area CVB, Oxy, Ludington Beverage, House of Flavors Manufacturing, Zupin Crane, Love Wines, IOS Entertainment, Red Hat Security, Ludington Police Department, Ludington Fire Department, and WMOM Radio.
Thank you to our New Year's Eve event volunteers: Brandy Miller, John Henderson, Steve Miller, Les Johnson, Chris Tooman, Mark Boone, Jason & Tammy Gerber, Dan O'Brien, Jana Rose, Jackie Steckel, Kathy & Steve Winczewski, Christine and Caleb Lamb, Alayne Speltz, Emily Taylor, and Doris Silver.
Thank you to our #RunLudington New Year's Resolution Run volunteers: Alisha Christensen, Erika Burgess, Angela Serna and the LHS Bowling Team.
---
DDA Board Meeting
Met January 7, 2019
The DDA board received 3 member resignations at the December meeting. Chair John Henderson, who has been our fearless leader since the Downtown Ludington Board was created in 2004 has retired from the board. Marilyn Carey also read her letter of resignation. Both exits were met with emotional good byes. The third member – Steve Miller – left the board as a member, but returned this month in his new role as Mayor of Ludington.
New members to be sworn in at the February meeting include Jason Adam (property owner in the DDA), Alisha Christensen (employee in the DDA, also a #RunLudington race committee member), Kaye Holman (former Mayor of Ludington), Brian Josefowicz (property and business owner in the DDA) and Tracy Sheid (business owner and resident in the DDA).
Members still in term for 2019 include Wayne Brown, Chris VanWyck (business owner in the DDA), Christine Lamb (employee of a DDA business), Kathy Maclean (business and property owner in the DDA), Brandy Miller (resident in the DDA),  Les Johnson (city counselor for DDA) and Mike Lenich.
Topics at the January DDA meeting included:
Marketing meeting delayed due to holiday.
Second pallet of ice rink panels approved.
Trash receptacles out for the winter.
TIF plan renewal
Creation of Citizen Advisory Council
Alley south of 100 block West Ludington Ave slated to be repaved in the spring
Event recaps
Ex-Officio reports from City Manager, CVB, Chamber, Library, State Park, Real Estate
View the full minutes here:
https://ludingtoncitymi.documents-on-demand.com/
---
Marketing
Met: Cancelled due to holiday
---
Business Development
Met: January 9th
Residents.

Explored the idea of creating a card that could be given to residents by landlords, real estate agents, rental companies, etc. when people move into the DDA to point them to our web page which lists information about parking, trash pick up, etc

Bowling Alley Block Commercial Space.

Staying in touch with developer to aid in recruiting businesses for this space.

Collaborative Database.

Created Google spreadsheet to include properties for sale and lease as well as interested developers and entrepreneurs.
This document will be shared with and compiled by the Downtown Ludington Board, Chamber of Commerce, Mason County Growth Alliance

Business Report.

News

Grateful Heart & Home will be moving to 119 W. Ludington Ave.
Picker's Paradise closed.

Closed for season:

Giving Tree Garden Center
Biercamp Market
Sloaney's
Maude's
Gene's Ventures
Avenue's End Mini Mall
Krave
Big Fish
Chef John's
Cops & Doughnuts

Available
---
Building & Grounds
Met January 17th.
Resident packet.

Has been finalized and mailed out to all residential addresses in the DDA.
It includes info on parking stickers (free), trash pickup, events, Citizen Advisory Council as well as city counselor contact info and voting location.
2019 Resident Parking Stickers are at the police department and ready for distribution.
All resident info can be found on our website at https://www.downtownludington.org/live

Ice Rink.

Second pallet of panels should arrive between Jan 21-25.
Once they arrive, Jen Tooman will coordinate a volunteer effort to assemble.
Chris VanWyck is working on private funding for a set of rental skates, which would be available to borrow from the Mason County Library using your library card.

Street Pianos.

The city recently received an insurance claim regarding an incident where a woman walking on the sidewalk on the north side Ludington Ave. tripped on a peg (used to secure piano tents) that was left in the concrete after a street piano was removed.
It is anticipated that the insurance company and city council will be reviewing the street piano program.
This committee recommended that pianos be allowed, but the requests should be directed to the planning commission for review and approval.

100 block of North William

A recent public concern has been voiced about the diagonal parking on the west side of this two way street.
Mayor Steve Miller is looking into the possibility of making this block one way, going north.
---
Fundraising
New. Has not met.