Quick Links: Kudos | Board Meeting | Marketing | Building & Grounds | Fundraising
---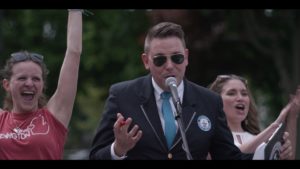 Kudos
A HUGE #LoveLudington THANK YOU to everyone who helped us break the World Record for the Largest Dessert Party on June 8th! This includes all of the restaurants that donated the dessert: Biercamp, Blu Moon, Lake Michigan Carferry, Engine Creative, Gordys, Jamesport Brewing Co., Krave Frozen Yogurt, Love Wines, Luciano's, Ludington Bay Brewing Co., Metro Mortgage, Red Rooster, Timbers, Wesco, West Shore Bank, Kilwins, House of Flavors, Ludington B&B Association, Q Smokehouse.
Another thank you goes out to Pennies Foundation and Engine Creative for donating loaner skates for our community skating rink! These will be available to check out at the library in November and December. You can give them a try on the rink at Friday Night Live!
---
DDA Board Meeting
Met June 3 2019
View the full minutes here:
https://ludingtoncitymi.documents-on-demand.com/
---
Marketing
Met May 2nd
Coupons were collected from downtown businesses for the Marina bags and given to the CVB to stuff into their Pure Ludington bags.
An ambassador event was discussed to educate front of house service staff on area attractions and commonly asked questions.
Update on HotSpot pricing.
Discussed skate rink at Friday Night Live.
---
Building & Grounds
Met June 20th
Drinking fountain on the public restroom building in James Street Plaza is out of order. Committee recommended to replace with a new fountain.
We received an update from the property owners on the south side of the 100 block of Ludington Avenue. They are meeting this month to finalize their project plans to submit for a grant.
Update on street pot plantings. The Garden Club purchased Seedam, Pennisetum Grass and potting soil and donated their time to plant the pots. Looks great!
Budget update.
---