Quick Links: Kudos | Board Meeting | Marketing | Business Development | Building & Grounds | Fundraising
---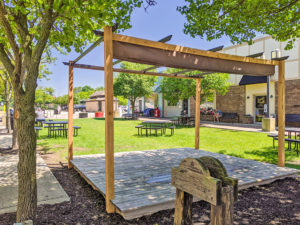 Kudos
Thank you to Tony Lambert of Tony & Sons Construction who donated time and materials to add permanent posts to our new pergola in the James Street Plaza!
---
DDA Board Meeting
Met May 6, 2019
View the full minutes here:
https://ludingtoncitymi.documents-on-demand.com/
---
Marketing
Met May 2nd
Facebook promo for May was the Mother's Day contest, which went well. The
2019 Map /Brochure was reviewed. The addition of a "pub crawl hunt" was approved. "Marina Bags" stuffed with downtown brochures, coupons from businesses and CVB info will be distributed to the municipal and Harbor View marinas to be given to transient boaters. Brochures will also be delivered to Cartier Park this year. There is a plan to team up with the cultural attractions, CVB and Chamber to create an ambassador type program to educate those in the service industry front line on what to do in Ludington. Looking into a Verizon Jetpack (prepaid vs. plan) for wifi at events. Avenue's End Mini Mall will be selling the Graffitti art for a Legacy Plaza fundraiser. Discussed fireworks plan for NYE. Got an update on the skate rental program for the ice rink, with plans to unveil at Friday Night Live.
---
Building & Grounds
Met May 16th
Reviewed bike rack placement
Discussed moving forward with grant available for Legacy Plaza revamp. Need to update cost estimates.
---