Quick Links: Kudos | Board Meeting | Marketing | Building & Grounds | Fundraising
---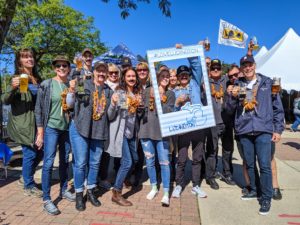 Kudos
We have SO MANY people to thank for helping us pull off a successful Octoberfest!
Thanks to Kurt King & friends who took on the task of helping us set up the event in the rain on Friday. Thanks to Heather Catron for doing an AMAZING job decorating the tent. Thanks to Liz Casey, Mike Lenich, Vicky Quick, Paula Jarvis, Jeff Smallwood, and Les & Sue Johnson for working the gate. Thanks to Chris Tooman, Jason Gerber, Kelly Parker, Dave & Lenore Tykoski, Steve Brock, Wayne Brown, Tim Neiber, Amber Ressl, Pat Buchanan for bar-tending.  And thanks to Tasha Smith, Brandy Miller, Jason Adam, for helping with tear down. It was an amazing day and our largest fundraiser to date. I also want to give a shout out to those that ran pub crawl games that Friday: Mike Luusua, Random Messeder, Renee Malburg, Steve Miller, Lisa Fragomeli, Jackie Makowicki, Marty & Barb Schmidt, Tasha Smith, Pamela & Gerald Buck, Mike Lenich and Marla Zatarga. If I missed anyone, I'm sorry! We appreciate you all!
That event also wouldn't have happened without our sponsors: Bell's Brewery, Ludington Bay Brewery, Oxy Chem, and Metal Works. 
---
DDA Board Meeting
Met September 9, 2019
View the full minutes here:
https://ludingtoncitymi.documents-on-demand.com/
---
Marketing
Met September 5th
LakeFX Media will be creating a holiday promotional video that will be used to promote shopping Downtown Ludington during the holiday season. This will be used in social media ads from November 1 thru Christmas.
Ways to enhance the holiday season were discussed, including horse drawn carriage rides, tree lots, a Santa hut, string lights over the skate rink, carolers and more.
We will be moving the lighting of the Christmas tree at the end of the parade, as we used to do and inviting those along the parade route to follow the parade to gather around the tree for the lighting.
Budget items were discussed for 2020, including collaborating with the CVB to put the Downtown map inside their in-market printed piece.
---
Building & Grounds
Met September 19th
Reviewed the current renderings of the Legacy Plaza revamp.

Asked for the addition of the digital kiosk. Edits included removing trees in front of the archway and moving the bollards to go across the alley, not across the park.

They submitted their 2020 budget requests including planters for South James Street. They will be looking into grants to expand that streetscape project.
They also added a line for lighting in the Filer Street parking lot. Agreed to postpone paving until 2021 at the earliest, siting that the Legacy Plaza project was priority for 2020.
The committee plans to move forward with designing a "walkability sign" project in 2020.
A quote was reviewed for construction drawings for the Legacy Plaza project, including the new restroom facility.
The committee discussed moving one of the five DDA dumpsters to the Filer parking lot to service South James Street businesses.
---